History
In the early 60′s, new methods of construction began transforming the existing commercial and residential markets of the Montreal area. A new and revolutionary product was being introduced, the gypsum board. A more economical and faster method of building partition walls was now available. It was soon obvious to Gratien Proulx that a new way to service these builders was needed. Gratien, who worked as a construction materials delivery man, lost no time and founded G. Proulx Inc. in 1966.
Gratien began looking for better trucks to accommodate the gypsum board size and bulkiness. The introduction of winches and pulleys, special carriages and many other devices were some of the solutions used until the advent of the boom-truck. A new service industry was taking shape and G. Proulx Inc. was at the forefront. Competition for the new growing market brought in new players that started offering similar services.
Today, G. Proulx Inc. has expanded into a dynamic and resourceful multifacet company. Our main occupation at G. Proulx Inc. is distribution and service to the construction industry in the Montreal area. We carry a broad and complete line of construction materials. We service the export and the local market. Our quality service, reputation, and our prices make us the most affordable and knowledgeable supplier in the industry.
Mission
In the construction industry, materials play a key role in the success of the implementation, and this as well at the realization that in the long term. Aware of the requirements of its customers, G. Proulx Inc. has served for more than 45 years the construction industry with products of the latest technology, to build faster and more efficiently, at the best price. Our eagerness for the quality of our service has now paid off; G. Proulx Inc. became the reference in the distribution of building materials. Our leadership position acquired, more demanding objectives were established.
Recognizing that modern construction technologies have become a global standard given the imperatives of profitability, and convinced of the added value of its products, G. Proulx Inc. has set new goals as a project partner.
In the context of globalization, G. Proulx Inc. wants to build its reputation on the same foundations that have made ​​it successful, impeccable service and a proven motto: Make customers save money and time.
Values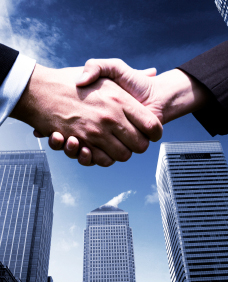 Seeking to become the benchmark in all sectors related to construction, we are committed to the total satisfaction of our customers and continuously improving our service to achieve perfection in everything we do. At G. Proulx Inc., prices can always be negotiated, but never quality.
That is why efficiency, excellence, reliability and know-how are the four qualities necessary for any employee of G. Proulx Inc., these qualities are felt every day by the service we offer to our customers and the complicity we have with them.